ABOUT NORTH WARD REALTY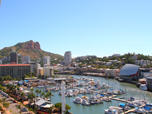 Understanding the local market and community is imperative to ensure clients receive the highest quality service. At the North Ward Realty office a team of committed professionals not only live locally but also are involved in the community at a grass roots level. This has helped the office to understand what clients expect from their real estate agent and ensure North Ward Realty have remained at the forefront of service and success in both asset management and sales arenas in Townsville. Recognised by their peers in the industry as a success driven pro-active agency, North Ward Realty regularly set price records for sales within the Townsville area.
Reputation
At North Ward Realty we are justifiably proud of the reputation we have earned as market leaders in Townsville.
Commitment
We realise that we will only maintain our market leadership through a commitment to our customer service and innovation. This can be seen both in our results and the way we achieve these results.
Exposure
We are North Ward Realty and our offices are situated in one the of highest traffic flow areas in North Ward and in fact Townsville. Over 27,000* cars a day pass by our windows which means if you are selling, or looking to have your property managed you should be in our windows. Investors and people moving to Townsville inevitably will end up looking in our windows as we are in the heart of the café precinct in Townsville right near The Strand in North Ward.
*Audited 2014 North Ward Road Traffic Census Data.
Service Excellence
Whether it's our reputation as the area's leading Real Estate team, our prominent and creative promotional strategies, our focus on service excellence or our quality management systems with the office, you know that each and every team member at North Ward Realty is striving to do the job that little bit better than anyone else in town.
Our Objective
Our aim is to consistently demonstrate an exceptional level of professional service to home owners, buyers, builder and investors, assisting them in often complex negotiations, to realise the greatest return on what is likely to be their largest investment. This guiding objective has seen us successfully sell many homes each month throughout the Townsville area.
---
North Ward Realty has partnered with an emerging Australian company which is fast becoming the powerhouse of software in Property Management. The advantages to us as Property Managers are numerous but of even more importance to us is our clients and their ability to have real-time access to their investment property via the "Client Portal". PropertyMe allows our clients to log in to their own portal and check on tenants rent payments, routine inspections, invoices, statements and more. No longer will you as an owner need to worry about saving paper or digital files with statements and other important documents, they are all there. Simply log in to the portal and you will have full history of documents, financial charts and more.