8-10 The Avenue, Hermit Park
Expressions Of Interest
You are never going to find something like this again! This is the largest Queenslander in Townsville and wow what a story it can tell!
The house was originally built by the Rooney family in the late 1800's but was sold in 1940 to Ernst Kjellberg to be used as a large medical clinic until 1968, with a short stint as the American Officers Quarters during WW2. (Ernst Kjellberg might not ring a bell to you but ask a chiropractor if they have heard of the Kjellberg chiropractic system. I've attached more information about Kjellberg at the end of the write up if you are interested but let's get back to the property for now.)
Now you are not mistaken when you saw 29 bedrooms in the icons, that's absolutely correct. There are also 12 showers, 10 toilets, 2 fully functional and recently upgraded commercial kitchens and upstairs has granite benchtops, an office, a large reception area, a veranda, quite literally a massive ball room right in the heart of the home, a granny flat (like you needed it) and a very large pool! A total of 1156sqm of just house (which is 578sqm per floor just for the house, not including the granny flat)
The property is currently being used a student accommodation for the Papua New Guinea government and the owners are willing to rent it back for 12 months at $120,000 pa. They are also happy to move everyone out and you can either start using it as your own accommodation provider or make it into your own grand old home which is something really love to see.
This stunning property is currently zoned as a guest house/private hotel and the block itself totals 1631sqm and covers what would be two normal blocks.
I just can't explain to you the feeling of walking through this home. I imagine the people treated here that were given no hope to walk and getting turned around by Dr Kjellberg. I sit in the ballroom and imagine the conversations the military officers would be having over dinner in the mess hall, or imagine them dancing and enjoying a night while trying to forget about what's happening in the rest of the world for just a little while. If these walls could talk what an amazing story they could tell. It's a strangely comforting being here.
We are asking for expressions of interest on the property to be in to us by Friday the 15th of December.
If you would like to book an inspection please call me on 0403 180 181.
Swedish-born Kjellberg (pronounced "Schellbay") arrived in Australia in 1900, aged twenty. In 1906 he took his new Australian wife, Louise, from Brisbane to Sydney, where both studied nursing at the Wahroonga Sanitorium. After graduation he opened a private clinic, attracting a large clientele, but when war began life became difficult for Ernst with his German-sounding surname and pacifist views. Hoping that a healthier environment would alleviate his wife's epilepsy, they made the long journey to the then remote Atherton Tableland. Helped by local Aborigines, some of whom became life-long employees and friends, he cleared a 160-acre selection outside Millaa Millaa, opening his extensive Beachview clinic in 1920. By the 1930s large numbers of patients were receiving Kjellberg's manipulative therapy, often with remarkable results. Many patients lived on site, sometimes accompanied by family members who helped with general tasks in lieu of payment. A number of ancillary buildings, including a gymnasium, were constructed, while rows of huts and tents accommodated staff, patients and their families.
Tragedy struck with the accidental death of the Kjellbergs' 16 year old son, followed twelve years later by the loss of the adopted daughter who had come into their care as an infant. Yet the Kjellbergs' dedication to their work was unremitting, matched only by the gratitude of patients and their families. Spinal and other injuries resulting from accident, and paralysis from stroke, brought many to Kjellberg's door but increasingly he was sought out by the parents of polio victims, beyond the help of conventional treatment.
Beachview closed in 1950 but by then a clinic had been operating for ten years in Townsville and another had opened in Cairns. In 1940 Kjellberg purchased the Rooney family property at 42 Sturt Street in Townsville, though within a year it had been taken over by Australian defence forces. Now known as Federation Place, this stately Victorian building is listed on national and state heritage registers although sadly the Kjellberg connection is ignored on the exterior wall plaque and in the historical interior display. The wartime acquisition forced the move to another Rooney property at 8 The Avenue in Hermit Park but even here the clinic was temporarily displaced by the arrival of American forces during WW2 and used as the American Consulate and Officers' Quarters. During that time the American Military did major upgrades to the property. If you are interested Special Collections contains three books about Kjellberg's life and work, the comprehensive being Kevin Somerfield's Healing Hands.
Heating & Cooling
Listed by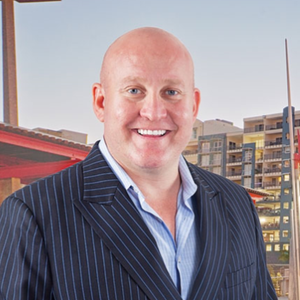 Clint Wallis
0403 180 181
---